Myth of Malham Race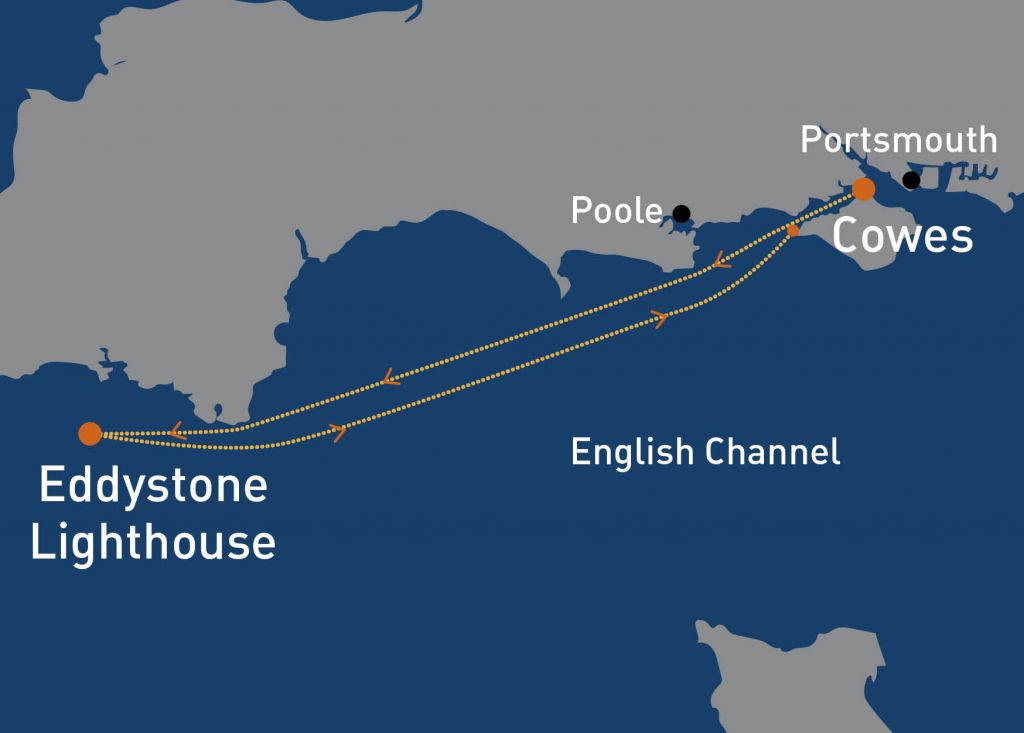 DATE: Saturday 27th May
COURSE: Cowes – Eddystone Lighthouse – Solent finish
DISTANCE (nm): 235
The course for the Myth of Malham race takes the fleet from Cowes to the Eddystone Lighthouse, south of Plymouth, before returning to the Solent.
Date: Satiurday 27th May
Course: Cowes – Eddystone Lighthouse – Solent finish
Distance (nm): 235
The Myth of Malham Race shares its name with the radical double Fastnet-winning yacht owned by former RORC Commodore John Illingworth. The boat's name itself came from the Malhamdale valley in northwest Yorkshire where Illingworth had lived as a boy. This was apt, given the northern grit and determination required for this challenging 235-mile race along the south coast to round the Eddystone Lighthouse south of Plymouth, returning to finish in the Solent.
While still one of the longer ones in the domestic season, the race takes on new meaning during a Rolex Fastnet Race year when it mirrors the initial phase of the longer course. This makes for a handy 'rehearsal' and ensures a large turn-out.Depending upon the conditions, the challenge lies ultimately in the complex tidal gates along the south coast's notorious headlands. In 2022 the 68-strong fleet enjoyed a downwind start followed by varied 5-25 knot conditions and a significant sea state. In the end the race was another notch in the belt for RORC Commodore James Neville's HH42 Ino XXX, taking home the Myth of Malham Cup for IRC Overall while the line honours winner was Niklas Zennström's CF-520 Rán 8.
Race Tracking
To see how the race unfolded in 2022 view the YB Race Viewer here: http://yb.tl/mom2022
Special Regulations
Category 3 with Category 2 liferaft and RORC prescriptions
Race Documents
UK Government Guidance - Sailing a pleasure craft that is arriving in the UK
For the results from 2022, please visit the Race Results page