The Notice of Race for the 2018 Vice Admiral's Cup has been released.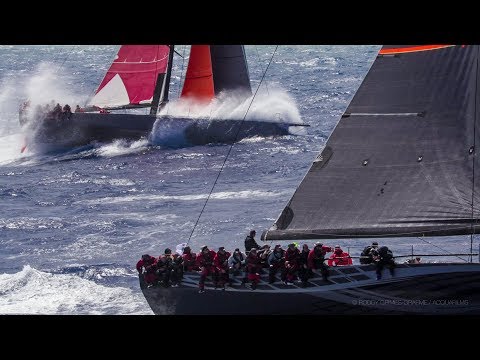 Wrap-up film: The 2018 edition of the race was the coming of age of the RORC Caribbean 600.
84 starters, 41 finishers, 43 retirees.
The RORC Caribbean 600 has grown up to become a 'must do' offshore classic. Now celebrating its tenth anniversary, the 600-mile race around 11 Caribbean islands is on the bucket list of any serious offshore sailor. This year, any remanence of its stature as a Caribbean cruise was totally extinguished. 25 knots of solid trade winds with gusty squalls and a confused sea state delivered a challenge to over 800 sailors from six different continents. The 2018 edition of the race was the coming of age of the RORC Caribbean 600.
The importance of the race to Antigua & Barbuda was recognised at the prize giving where guests of honour included: The Governor General Deputy, Sir Clair Roberts and his wife, The Hon E.P. Chet Greene, Minister for Sports; Shirlene Nibbs, Consultant to the Ministry of Tourism; Shamoy Richards, Cruise Marketing Manager for the Antigua & Barbuda Tourism Authority; Admiral of Antigua Yacht Club, Sir Hugh Bailey, and Commodore of Antigua Yacht Club, Franklyn Braithwaite GOH. The RORC Admiral, Andrew McIrvine, RORC Chief Executive, Eddie Warden Owen were both in attendance along with most of the RORC Committee. RORC Commodore Steven Anderson, who took part in the race with his family on board Gemervescence, was quick to praise the army of volunteers and the race committee for their hard work, as well as all the competitors - pointing out that the vast majority were passionate corinthians, the heart and soul of the Royal Ocean Racing Club.