Starting on 7th January 2024, the 3,000-mile race across the Atlantic Ocean is organised by the Royal Ocean Racing Club and supported by Calero Marinas and the International Maxi Association, along with Yacht Club de France. The RORC fleet will set off from Marina Lanzarote bound for Camper & Nicholsons Port Louis Marina Grenada.
Entries are ramping up for the 10th edition of the RORC Transatlantic Race, promising thrilling battles right through the fleet. Racing under IRC, Maxis, high-performance raceboats, as well as two-handed warriors, are all taking up the challenge. The MOCRA division is shaping up to be the best ever with a dazzling array of multihulls in search of glory.
The RORC Transatlantic Race is a truly international affair with entries and expressions of interest from Austria, France, Germany, Great Britain, Italy, Netherlands, the United States, Spain, and Switzerland. Once in the Caribbean, nearly all of the entries will be competing in the RORC Caribbean 600, which is celebrating its 15th edition.
"Collaborating with RORC for a decade of prestigious Transatlantic Races has been a great honour for Calero Marinas and marks a joint celebration together with our 40th anniversary as marina operators," commented José Juan Calero, CEO Calero Marinas. "It is a genuine pleasure to see the RORC Transatlantic Race become the reference for serious racing sailors travelling from the yachting hotspot of the Canary Islands over to the Caribbean, featuring a calibre of participating yachts and international stars that has been nothing short of extraordinary. Here's to the next 10 years!"
Jason Carroll's MOD70 Argo © UltImate Sailing
Four 70-foot trimarans are lining up for the 2023 RORC Transatlantic Race, which will be the largest collection in the 10 year history of the race. Multihull Record holder Giovanni Soldini's Maserati Multi70 is on for a hattrick of Line Honours wins and for the 10th edition is expected to be taking on three MOD70s; Jason Carroll's Argo, Erik Maris' Zoulou and a new MOD70 team, Alexia Barrier's The Famous Project, whose ultimate ambition is an all-women Jules Verne Record attempt with the Maxi-trimaran Idec Sport. While the above will be gunning for Multihull Line Honours, the multihull class will also be racing under the MOCRA Rating system. The smallest Multihull entered so far is Clarin Mustad's Alibi54 Dakota.
"Zoulou has new foils; they are not exactly the same as Argo's but very similar, while Maserati has elevators and The Famous Project is very much in original MOD70 configuration," commented Argo's Chad Corning. "Argo will have the usual squad on the boat and the big numbers are achievable if we have the right conditions. For Argo, not too windy and a smooth orderly swell is what we want," continued Chad referring to the Multihull Race Record set last year by Maserati (5 days 5 hrs 46 mins 26 secs). "It is really exciting to hear that so many multihulls will be racing and team is looking forward to getting to Lanzarote."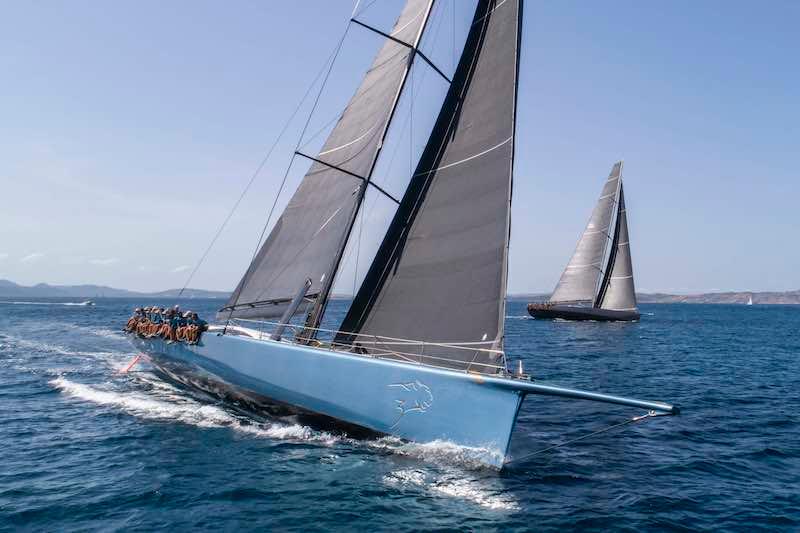 Farr 100 Leopard 3 © International Maxi Association/Studio Borlenghi
A number of ocean-going Maxis are among the favourites to contest the IMA Transatlantic Trophy for Monohull Line Honours. The largest boat currently confirmed is the 107ft Wally Spirit of Malouen X, skippered by Stephane Neve, which is also in the newly created Superyacht Class for displacement yachts of 24m and over. The RORC Transatlantic Race also has a Classic Class with details in the Notice of Race.
Expected to return to the RORC Transatlantic Race is the Farr 100 Leopard 3, skippered by Chris Sherlock. In 2016, Leopard 3 with Mike Slade at the helm, won the IMA Transatlantic Trophy. Now under new ownership, Leopard 3 has undergone major changes including a new rig, deck, and winch package. The multi-world record setter Leopard 3 has recently taken Line Honours in the Rolex Middle Sea Race and set a new race record for the Aegean 600. Leopard 3 plans to take part in their sixth RORC Caribbean 600 next year, having taken Line Honours in two editions.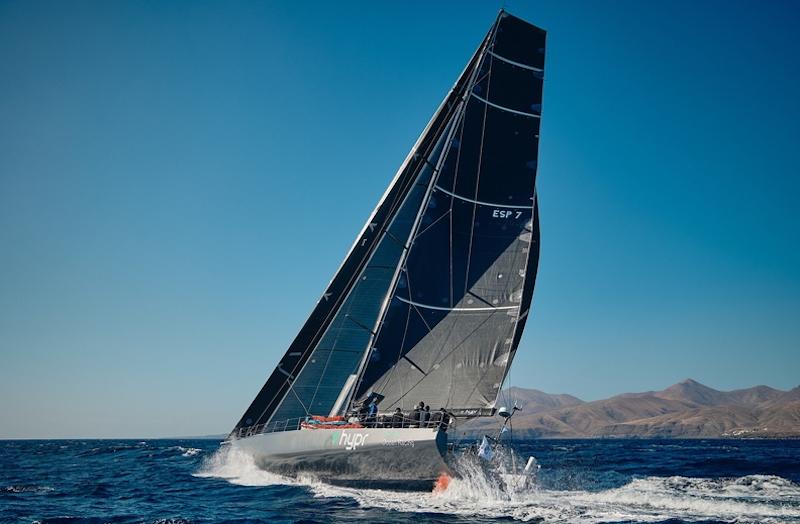 Volvo 70 HYPR © James Mitchell/RORC
HYPR skippered by Jens Lindner is the first of a number of Volvo 70s and VO65s to declare their intention to race. Four more are expected but yet to officially enter the RORC Transatlantic Race.
The Canary Challenge is a new race organised from 13-17 December 2023 by the Royal Canary Sailing Federation, Royal Yacht Club of Arrecife, and Calero Marinas. The race of approximately 600nm around the Canary Islands uses IRC and MOCRA rating rules. Aimed at Volvo 70s, VO65 and Multihulls, other IRC Classes maybe formed according to demand. For more information: www.allroundcanarychallenge.com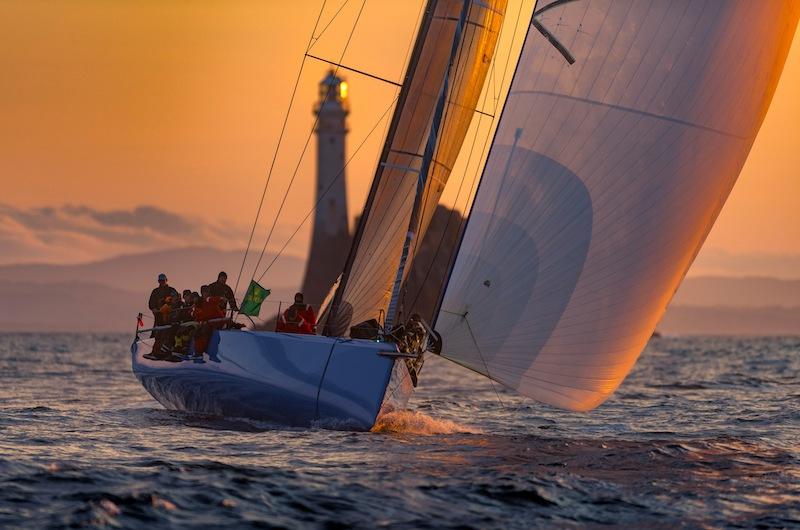 Chris Sheehan's American PAC 52 Warrior Won © ROLEX/Kurt Arrigo
The overall winner of the RORC Transatlantic Race is decided by IRC time correction and statistically the smaller entries have at least an equal chance of lifting the RORC Transatlantic Race Trophy. In the past nine editions, four Maxi yachts have won, but the majority of victories have come from boats between 54-33ft.
New to the race is Chris Sheehan's PAC 52 Warrior Won. The American boat has been on something of a world tour since winning the 2022 RORC Caribbean 600; down under for the Rolex Sydney Hobart and then to Europe for the 2023 Rolex Fastnet. Racing back across the Atlantic will continue the loop, with Warrior Won eyeing up another crack at the RORC Caribbean 600 in February 2024.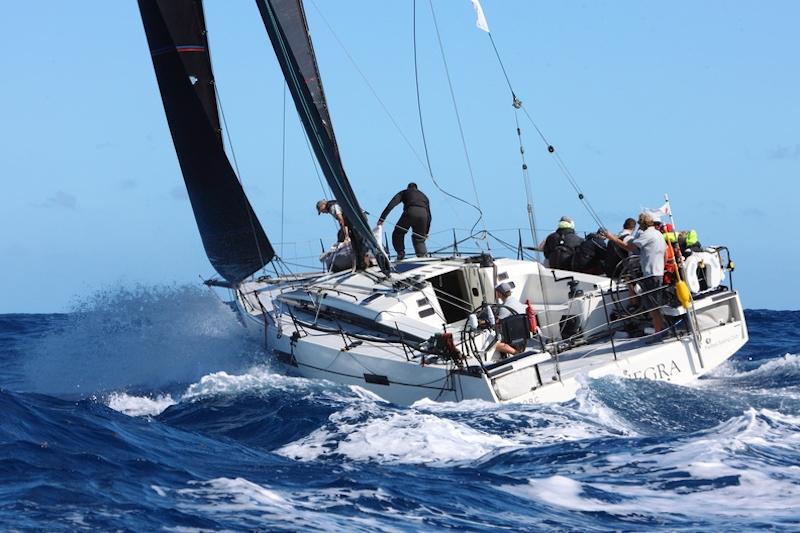 Andrew and Sam Hall's Pata Negra © Tim Wright/RORC
Monohulls under 50 foot likely to be racing include Andrew & Sam Hall's Lombard 46 Pata Negra, which won IRC One last year and was second overall in 2019. The father and son co-skippers are expected to back with a fully crewed Pata Negra to challenge for the 10th edition. Competing for the first time in the RORC Transatlantic Race are two boats both called Moana. The German Marten 49 Moana, skippered by Hanno Ziehm, and the Dutch J/122 Moana, sailed by Michelle Witsenburg and Frans van Cappelle. French sailor Yves Grosjean has competed with the RORC for many years, notably with his J/133 Jivaro. Grosjean's new boat is the all-carbon Neo 430 Roma NeoJivaro raced in the 2022 Rolex Middle Sea Race and is entered for its debut in the RORC Transatlantic Race.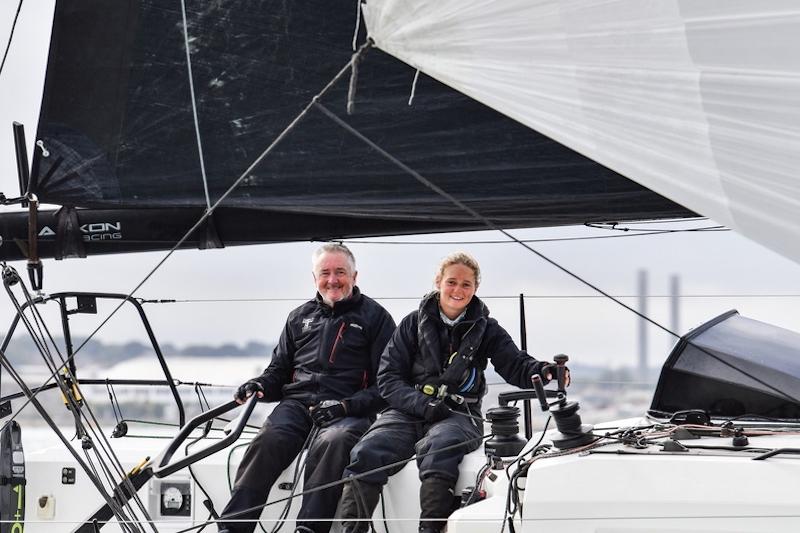 Gavin Howe and Maggie Adamson Sun Fast 3600 Tigris © James Tomlinson/RORC
The monohulls under 40ft include three teams that will also be making their debut in the RORC Transatlantic Race. Ed Bell's much travelled JPK 1180 Dawn Treader will race with a full crew. Ross Farrow's Sunfast 3300 Asgard will be racing Two-Handed with Conor Corson. Gavin Howe's Sunfast 3600 Tigris will be racing in IRC Two-Handed with Maggie Adamson, as he has done for the Sevenstar Round Britain & Ireland Race and the Rolex Fastnet Race; 2024 will be their fifth season on Tigris.
"I really enjoy long offshore races, but due to circumstances, including the pandemic lockdown, this will be my first transatlantic race. Ticking off my bucket-list for both the RORC Transat and Caribbean 600 is something I have really wanted to do," commented Tigris' Gavin Howe. "Racing downwind for many days can be so rewarding. You adapt to life at sea and get a good rhythm going. Life becomes fairly simple but it is a very special and privileged environment, I love it. We always race wanting to win and the Sun Fast 3600 Tigris is a good all-rounder and very robust.
"Good preparation is very important and then it is about sailing the boat properly and going as fast as you can. Choosing the right Two-Handed partner is so important. Maggie comes from Shetland and she is on the Lerwick Lifeboat, one of the toughest in Britain. She is also skipper of The Shetlands Tall Ship The Swan, and twice Scottish champion fiddle player. You don't do things like that casually. We got on from the very first moment and she has been really committed. A good sailing partner, especially double-handed, is someone you can trust," continued Howe.
Class40s have featured in the RORC Transatlantic Race since 2015; the first Class40 entry for the 2024 edition is the Jason Ker designed Concise 8 owned by American sailor Charles de Coquet. Class40s with an IRC rating are also eligible for the overall win and the RORC Transatlantic Trophy. In 2021 Olivier Magre's Class40 Palanad 3 not only won the race overall, but also set the IRC Record for the best corrected time of 10 days 00 hrs 43 mins 18 secs.
For more information about the 10th edition of the RORC Transatlantic Race, including online entry: www.rorctransatlantic.rorc.org
Lead image: Marina Lanzarote © James Mitchell/RORC
---
---