Dock Talk in Helsinki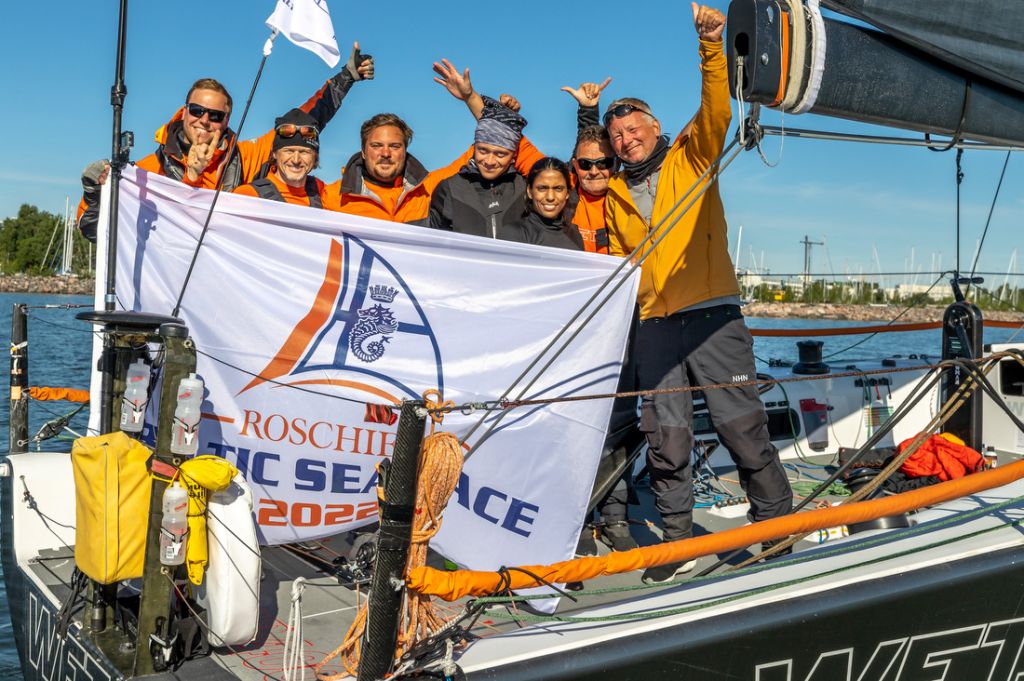 The Swedish Farr 400 Wetjob, skippered by Niclas Heurlin became the eighth team to complete the Roschier Baltic Sea Race just after 0900 local time on the fifth day of the 635-mile race. Dockside at Marina Bay in Helsinki, crews are met with cold Fat Lizard Beer and warm greetings from the volunteers and organisers. As a new offshore race, the dock talk is all about the new experience for sailors from all over the world.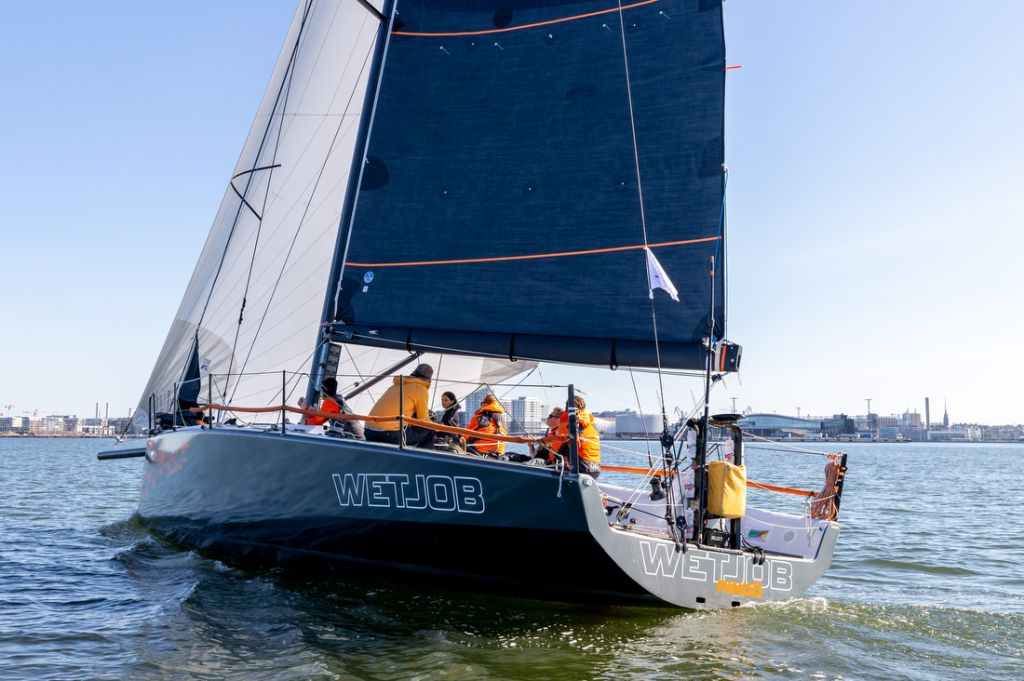 Niclas Heurlin from Stockholm's KSSS club is an experienced sailor with 20+ Gotland Runt races and several Fastnets completed. His Farr 400 Wetjob (SWE) finished the 695nm Roschier Baltic Sea Race in Helsinki on day five © Pepe Korteniemi /www.pepekorteniemi.fi
From Connecticut, USA, Clarke Murphy chartered VO65 Ambersail 2 for the race, putting together a professional crew and two of his children; Caitlin and Liam. Ambersail 2 was in the hunt for most of the race and pole position for Line Honours until the wind shut down close to the finish at Helsinki. Ambersail 2 was helpless as boats more suited to the conditions caught them up and proceeded to pass them. "Congratulations to the RORC and their partners in Finland for creating a great race," commented Clarke. "Despite the light air start and finish, it is part of the enjoyment to experience the amazing surroundings of Helsinki, and that really appeals to me.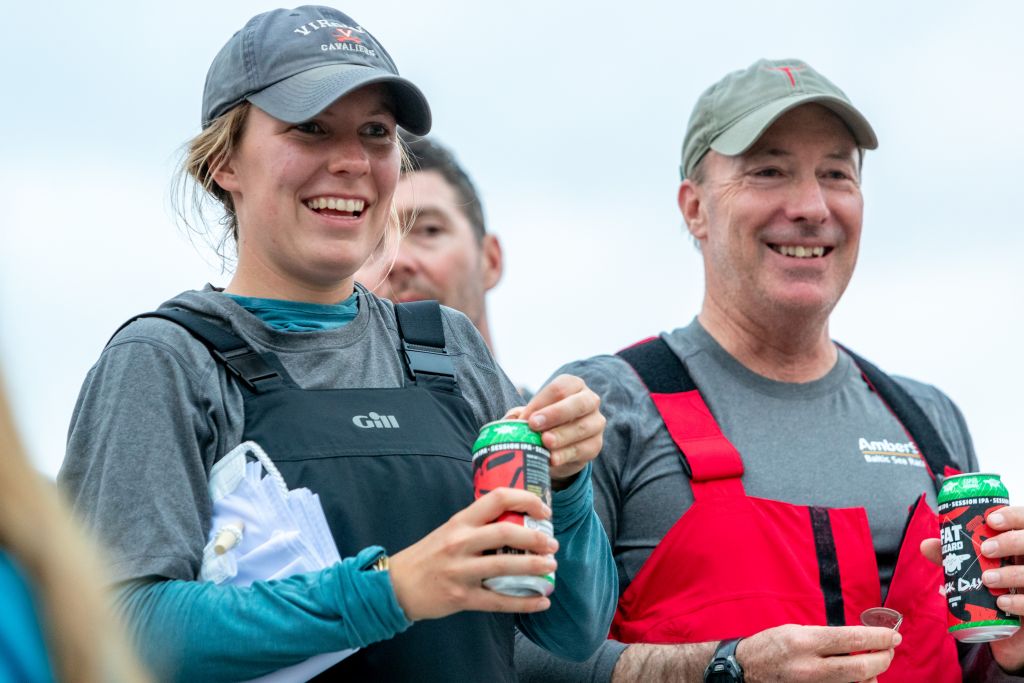 Caitlin and Clarke Murphy on the chartered VO65 Ambersail 2 - Every boat is welcomed back to Helsinki following the finish of the race and greeted with cold beers from race sponsor Fat Lizard, the Finnish craft brewery founded in Espoo © Pepe Korteniemi /www.pepekorteniemi.fi
"Having such a beautiful start off the fortress, then a finish inside the city makes this race unique. Beautiful views combined with challenging tactics and a great race location! We set out to win every race and this has been a tricky one with complex and changeable weather, but that is a challenge we enjoy. To race in a great location with my children and a crew of friends who are great sailors, that has been really enjoyable. We are glad we came to Helsinki," said Clarke dockside.
Tilmar Hansen lives on The Baltic Sea and has been racing all over the world for decades. Tilmar's latest big win was overall under IRC for the 2020 RORC Caribbean 600. "This year, we celebrate over 40 years of racing Outsider. I raced in the Helsinki 3/4 ton world championships in 1981 and then it was very difficult for me to establish law and order for the crew!" laughed Tilmar. "A few years ago, I was here for the 6 Metre Worlds and we have all got more orderly. The team has also raced in Maastrand and the Gotland Runt; we have had great hospitality in the Baltic, which has short nights and very pleasant weather. The Roschier Baltic Sea Race is challenging because the weather changes a lot and with so much influence from land there are many places were weather systems meet each other."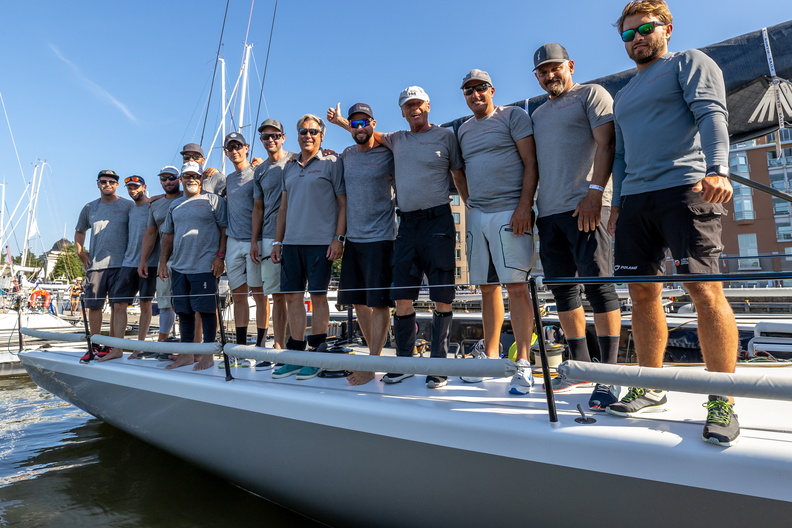 Tilmar Hansen's TP52 Outsider crew line up before the start in Helsinki + Top right: America's Cup sailor Dee Smith - tactician
From California, USA, America's Cup sailor and multiple world champion Dee Smith was calling tactics on Tilmar Hansen's TP52 Outsider, which caught up 30 miles towards the finish to come within 700 metres of taking Line Honours for the Roschier Baltic Sea Race.
"There are two sides to running the tactics for a race like this," commented Dee. "You do your homework and Robin (Outsider Navigator, Robin Zinkmann) did that, keeping us up-to-date with routing and grib files. Then there is the side that you have to use your eyeballs to determine what is really happening. None of the models agreed, so that made it even more 'seat of the pants' sailing. My job was to keep my head up and read the weather. I did the Gotland Runt on Outsider two weeks ago but that was the first time racing in The Baltic. This racecourse is really good, but we went into it knowing the weather was changeable and it was going to be a minefield. The fact that we raced around the course with 70-footers means we did a good job."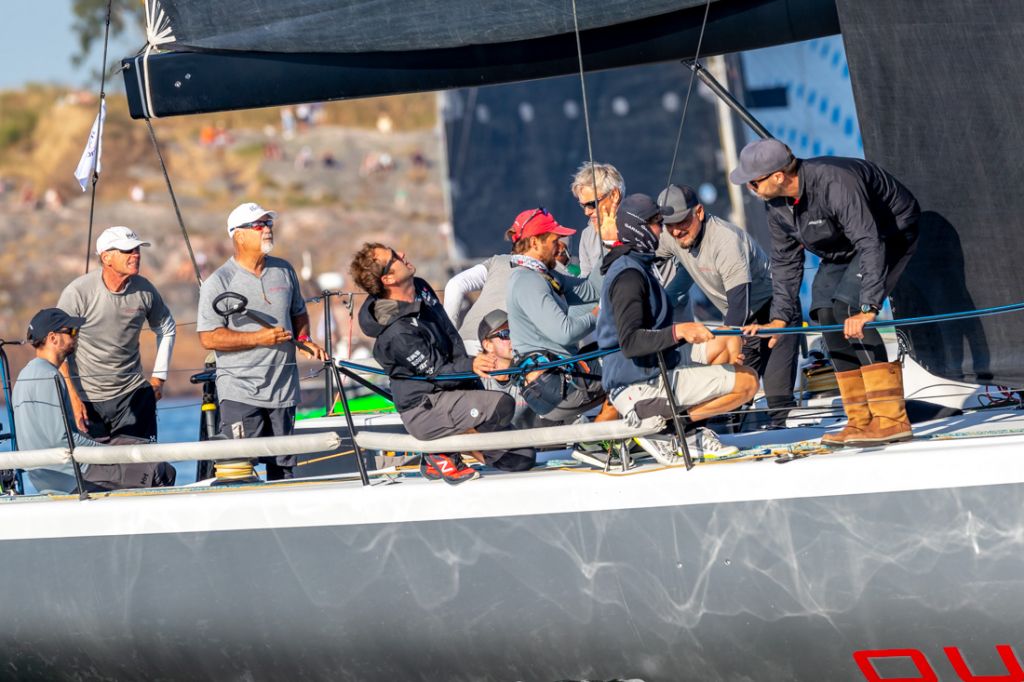 The crew of Outsider battling in the challenging conditions © Pepe Korteniemi /www.pepekorteniemi.fi
The next team to complete the Roschier Baltic Sea Race will be the first team from Finland. Arto Linnervuo's xP-44 Xtra-Staerk is less than 10 miles from Helsinki. The reception for the team will be something special!
Keep up to date with the race and track the fleet: https://yb.tl/Balticsearace2022 For further information and to follow the Roschier Baltic Sea Race please go to: http://www.rorc.org/baltic-sea-race
Report by Louay Habib for RORC