Roschier Baltic Sea Race – The Pioneers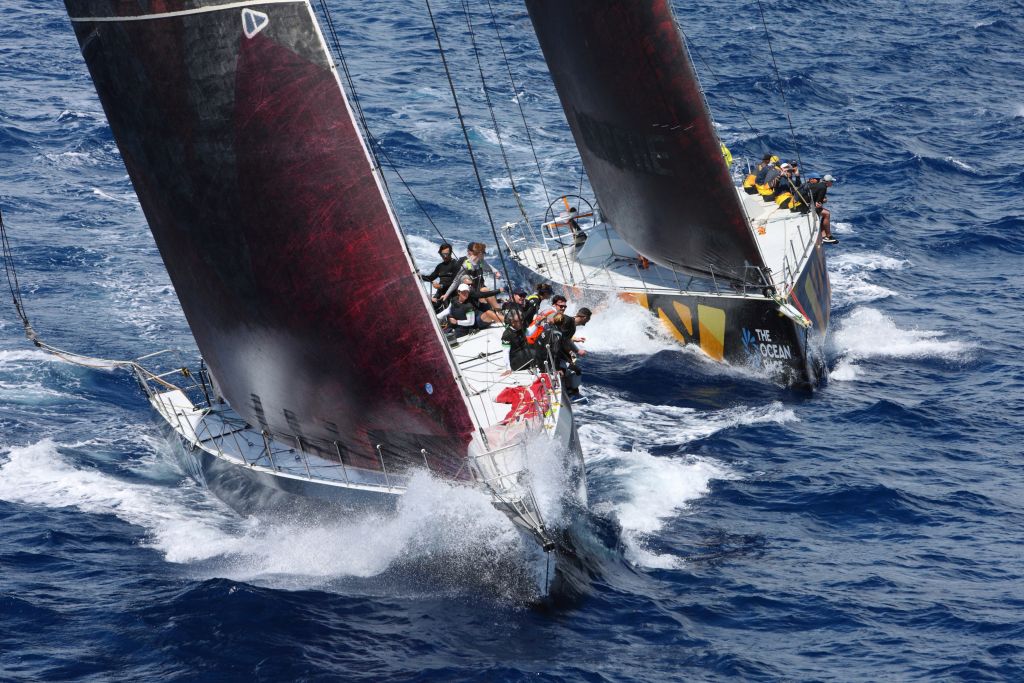 The inaugural Roschier Baltic Sea Race starts from Helsinki, Finland on Thursday 21st July 2022, organised by the Royal Ocean Racing Club together with the Ocean Racing Alliance.
The race is approx. 635 nautical miles, starting and finishing off Helsinki in the Gulf of Finland. The course incorporates the Swedish island of Gotland, located approximately 250nm southwest of Helsinki.
The Roschier Baltic Sea Race has attracted 27 entries from 11 countries; the host nation Finland; Denmark; Estonia; Germany; Great Britain; the Netherlands; Norway; Poland; Spain; Sweden and the United States of America. A huge diversity of entries; a totally new course and a variety of weather scenarios makes predicting the elapsed time for the competing yachts to be far from straight forward. Three teams; Ambersail 2, I Love Poland and GP Bullhound can be considered favourites to set the race record. Janne Kjellman's TS-42 Squid from Helsinki is the only multihull entered. The overall winner of the Roschier Baltic Sea Race will score the best corrected time under the IRC Rating Rule.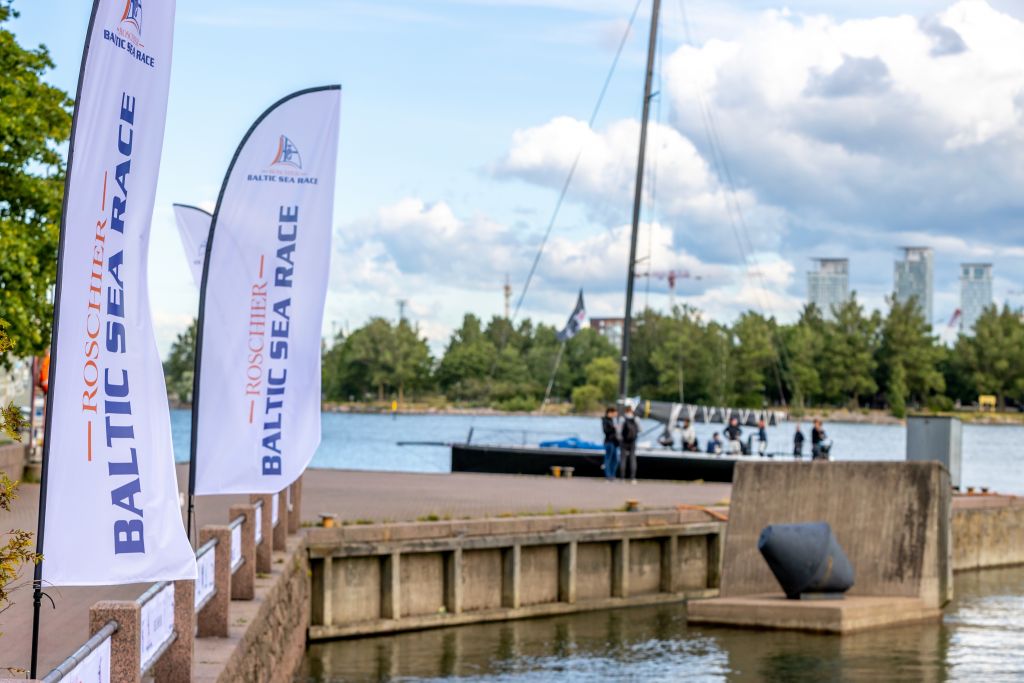 Twenty-Seven boats from 11 different countries are being hosted at Marina Bay in the centre of Helsinki for the Roschier Baltic Sea Race © Petri Korteniemi
IRC Zero
The Lithuanian VO65 Ambersail 2 has been chartered to American skipper Clarke Murphy and will be racing under the burgees of NYYC and RORC. Ambersail's crew includes Ian Budgen as tactician and Mike Broughton as navigator; both have won multiple world championships and competed in round the world races. Clarke Murphy will be racing with two family members; Liam and Caitlin Murphy, with a professional crew, including two-time Volvo Ocean Race sailor Abby Ehler.
Nearly all of the 14 crew on Volvo 70 I Love Poland, skippered by Grzegorz Baranowski are 30 or under and all of them are from Poland. Owned by the Polish National Foundation, I Love Poland's mission is to produce the next generation of top offshore sailors from Poland. A prime example is Magdalena Kwaśna who competed in the Tokyo Games in the Laser Class. Since starting the project in 2018, I Love Poland has taken Line Honours in the Rolex Middle Sea Race, first Volvo 70 to finish the 2021 Rolex Fastnet Race, and winner of the 2022 IMA Caribbean Maxi Challenge.
Sailed by Per Roman Volvo 70 GP Bullhound is well-known as HYPR on the international offshore racing circuit. GP Bullhound's crew of 16 is a mixture of friends and family and regular professional crew under Jens Lindner, including round the world sailor Diego Fructuoso. The international crew on GP Bullhound come from Spain; Sweden; France; Germany; Hong Kong and the Netherlands.
Tilmar Hansen's German TP52 Outsider, skippered by Bo Teichmann, is one of the favourites for the overall win under IRC. Outsider's biggest win to date was overall for the 2020 RORC Caribbean 600. German Carkeek 47 Störtebeker, formerly Black Pearl, is skippered by Torben Muehlbach with a young crew from Hamburgischer Verein Seefahrt (HVS). The largest boat in the race is Kenneth Bjoerklund's Norwegian CNB 76 Enderpearl, which will have a Nordic crew including the owners' regular friends and highly experienced Finnish sailors Ari Känsäkoski, Sakari Kalske and Jan Paukkunen. The Dutch in IRC Zero is Willem Jan Landman's Volvo 60 Boudragon.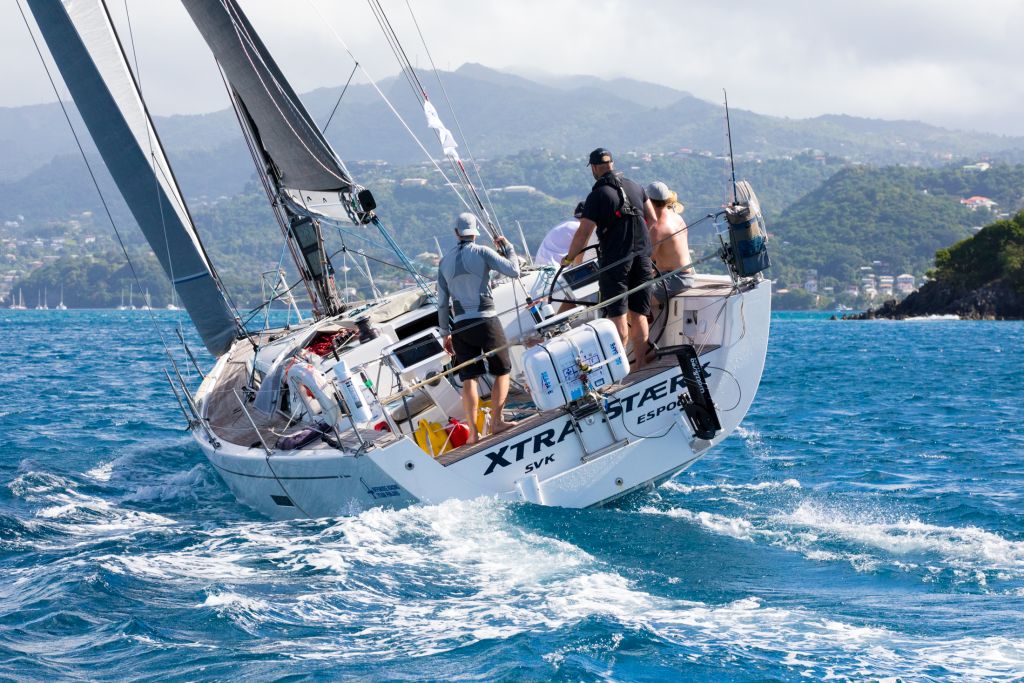 Arto Linnervuo's Xtra-Staerk will be racing with a team of eight, all from Finland © Arthur Daniel/RORC
IRC One
Ten teams in a variety of yachts are entered in IRC One from six different countries. The largest is Sebastian Gylling's classic Finnish Swan Eira, the smallest is Anders Lundmark's Danish Figaro 2 The Spirit, which will be racing Two-Handed with Louise Edgren.
Notable entries in IRC One include Ed Bell's British JPK 1180 Dawn Treader which was the overall winner of the 2022 Gotland Runt and class runner up fo r the 2022 RORC Caribbean 600. Arto Linnervuo's Xtra-Staerk will be racing with a team of eight, all from Finland. The Xp-44 has scored impressively in the RORC Transatlantic Race, RORC Caribbean 600 and the Rolex Fastnet Race.
Two German teams of similar design will be racing Berthold Brinkmann's Mariejo, skippered by Martin Buck is a brand new Pogo 44 with an all-German crew of four. Thomas Reinecke's Millennium 40 Edelweiss will be sailed by Ove Franck with an all-German crew of eight. Swedish Farr 400 Wetjob is the highest rated boat and will be representing the Royal Swedish Yacht Club. Wetjob's skipper Niclas Heurlin has competed in several Fastnet Races and close to 20 Gotland Runt races. The Swedish duo of Karl Jungstedt and Martin Dubois will be racing Sun Fast 3600 Groovie Two-Handed. Dubois has taken part in over 20 Gotland Runt Races. Karl Jungstedt is a highly experienced Class40 sailor and has competed in several RORC Caribbean 600 Races, the Rolex Middle Sea Race and the Rolex Fastnet Race.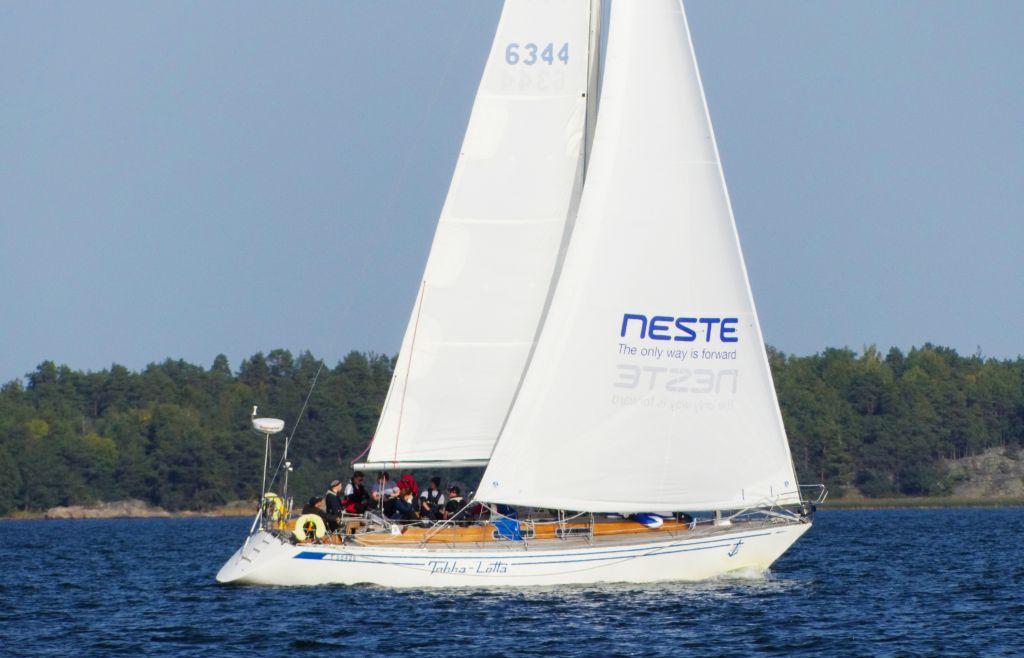 MP42 Tokka-Lotta will be crewed by young Sea Scouts from Turku in South West Finland © Tokka-Lotta
IRC Two
Ten teams will be racing in IRC Two, the largest is the classic Ron Holland designed Swan 441 Carissa, owned by the Ocean Ladies Association and skippered by Raija Alapeteri with an all-women Finnish team of eight. The smallest boat in the class and the Roschier Baltic Sea Race is the Finnish H-323 Silver Moon II which has a crew of five family and friends skippered by Salla Kaven.
President of the Swedish Sailing Federation Olof Granander will be racing his Swedish First 40.7 Embla, the bulk of the Corinthian crew comes from three Swedish families that have been racing together for five years. MP42 Tokka-Lotta will have a crew of 10 Sea Scouts from Turku in South West Finland. Skippered by Philippa Rytkönen, Tokka-Lotta was designed for sail training and will be crewed by the young team.
Kind of Magic is a Finnish IMX 38 skippered by Ilmari Absetz with a crew of eight, mostly from Finland, but also Yasmine Piening from Switzerland and the well-travelled Australian Peter Fletcher who has competed in just about every 600-mile race in existence. Xchiquilla will be raced by owner Edgars Kvjatkovskis and skipper Mareks Ivans with an all-Latvian crew.
Swedish Albin Nova Team Mobline will be raced Two-Handed by Pär Lindfors from Sweden and Nadine Kugel from Germany© Lasse Eklof/www.s-e-r.se
IRC Two-Handed
Five teams in the Roschier Baltic Sea Race will be competing in IRC Two-Handed, including Julius Haartti and Sanna Moliis with their Finnish J/109 Irie. The pair have twice crossed the Atlantic and competed in the last two editions of the Gotland Runt. Swedish Albin Nova Team Mobline will be raced Two-Handed by Pär Lindfors from Sweden and Nadine Kugel from Germany. Team Mobline regularly competes double-handed in the Baltic Sea.
Prior to the race start on Thursday 21st July the Helsinki Mayoral reception and the Welcome Party will be held at Helsinki City Hall. The impressive neoclassical building was originally designed by Carl Ludvig Engel in 1833. The official race supporters of the Roschier Baltic Sea Race are: The City of Helsinki; The Nyländska Jaktklubben (NJK), Finnish Offshore Racing Association (AMP); Helsingfors Segelklubb (HSK); and the Xtra Stærk Ocean Racing Society.
Further information and to follow the Roschier Baltic Sea Race please go to: http://www.rorc.org/baltic-sea-race #RoschierBalticSeaRace