Over 120 entries for RORC Myth of Malham Race
Starts Saturday 25th May from Royal Yacht Squadron Line. 230 mile race from Cowes, round the Eddystone lighthouse and back to the Solent.
The RORC Season's Points Championship continues over the May Bank Holiday weekend with one of the longest races of the season. Fresh from victory in the North Sea Race, Piet Vroon's Dutch Ker 46,Tonnerre de Breskens 3, is the scratch boat in IRC One but will surely be under tremendous pressure from three Ker 40s: Harmen de Graaf's Baraka GP, Edward Broadway's Hooligan VII and Andrew Pearce's Magnum III. Mike Greville's Ker 39,Erivale III, is a former winner of the race and no doubt the RORC Commodore will enjoy the competition with Anthony O'Leary's Irish Ker 39,Antix, which will also have Olympic helmsman, Peter O'Leary on board.
Read more... [Over 120 entries for RORC Myth of Malham Race]
Piet Vroon's Dutch Ker 46, Tonnerre de Breskens 3, won the North Sea Race with the best score racing under the IRC rating Rule. Gusting over 25 knots with rainsqualls, the early part of the race was not a comfortable one but more settled weather in the latter part of the race with glimpse of sunshine coming through the cloud cover was welcomed by the 75 yachts that entered the race.
Harm Prins' Dutch Volvo 60, Pleomax, took line honours and IRC Zero but corrected out to third overall. The biggest threat to Tonnerre de Breskens came from Géry Trentesaux's MC34 Patton, Courrier Vintage, which was the victor in IRC Two. However the French flier was nearly half an hour behind Tonnerre de Breskens after time correction, Harmen J de Graaf's Ker 40, Baraka GP, with Volvo Ocean Race veteran Bouwe Bekking on board, was also a threat but could not match Tonnerre. Much to the delight of the Dutch yacht's skipper, Piet Vroon, Tonnerre de Breskens 3 was victorious in Scheveningen.
Read more... [Double Dutch]
Sleigh Ride to Scheveningen
The 210-mile race from Harwich to Scheveningen looks like being a fast sleigh ride across the North Sea. Fresh southwesterly winds with gusty rainsqualls are predicted, which should produce an ideal angle for an exhilarating race for the international fleet. 75 yachts have entered the race, which has a weighted points factor as part of this year's RORC Season's Point's Championship. Whilst many of the entries are from Holland, yachts from Austria, Belgium, France, Great Britain and Germany are also taking part.
Last year's winner overall under IRC was Frans Rodenburg's Dutch First 40, Elke. "All of our family's boats are called Elke, named after my sister, who is our guardian angel" said Frans. "Looking at the conditions it will be a hard race but the North Sea Race and the regatta in Scheveningen are the highlight of our season. We have virtually the same crew as last year and we are really keen to win again. After the regatta, Elke will go to Brittany and be used for cruising by the family."
Read more... [Sleigh Ride to Scheveningen]
The North Sea Race 2013 from Harwich to Scheveningen is being tracked with Yellowbrick Trackers. Click to follow the race live.

A simple XML feed can be found here.
2014 Brewin Dolphin Commodores' Cup: Dates Announced and Notice of Race Published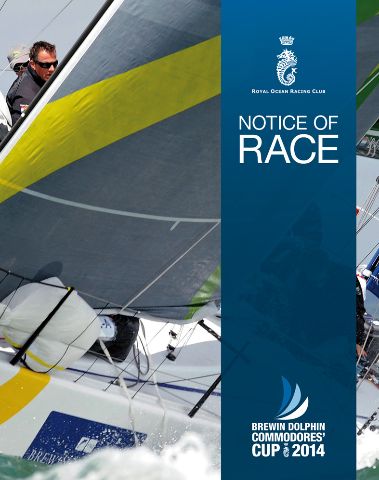 The Royal Ocean Racing Club is pleased to announce the publication of the Notice of Race for the
2014 Brewin Dolphin Commodores' Cup.
The event based in Cowes will start on Saturday 19th July 2014 and follow a similar format to previous years. A mixture of inshore races in the Solent, an offshore race in the English Channel and a race around the Isle of Wight, will finish with a final race and prize-giving on Saturday 26th July 2014.
The Commodores' Cup, which started in 1992 is an international three-boat team event using the IRC Rating system and is open to boats rated between 1.020 and 1.230, with only one boat rated above 1.150. It is a vigorously protected Corinthian regatta where the number of Category 3 sailors is restricted to one per boat, except for the boat rated above 1.150 which can have two.
It is an event popular with teams coming from all corners of the world and a number of countries having trials to select their respective participants. With numerous IRC boats based around the Solent, teams are able to charter competitive boats to reduce the cost of shipping boats to the UK.
The Notice of Race can be viewed and download from the Brewin Dolphin Commodores' Cup website: http://commodorescup.rorc.org/ or contact the RORC Race Office.
Vintage win for Trentesaux in Cervantes Trophy
The RORC domestic offshore season sprang to life with a fast and, at times, furious 100 mile race to Le Havre for the coveted Cervantes Trophy. Sam Marsaudon and Géry Trentesaux's MC34 Patton, Courrier Vintage, finished the course in under ten hours to win IRC Two and was declared the overall winner. Racing under IRC rule, the French team of seven included UNCL President, Marc de Saint Denis and was skippered by Géry Trentesaux.
Géry Trenteseaux is one of the most experienced helmsmen in the race; he recalled: "We had more wind at the start than we expected and we had our big spinnaker up, which made for a very fast but at times tricky start, but Courrier Vintage loves going downwind in big conditions. I am too old to helm for ten hours, so we were rotating the driving. It was a very fast race and although the wind was down towards the end, we were not concerned as there was still enough to keep the boat going fast. We received a very warm welcome from the yacht club in Le Havre and celebrated with some dinner and of course some French wine and now we are looking forward to next week's North Sea Race."
Read more... [Vintage win for Trentesaux in Cervantes Trophy]
Cervantes Trophy Race Course
The course for the Cervantes Trophy Race has now been published.

Please click here for the course.

The RORC wishes all competitors a good race over to Le Havre.
Clubhouse Bank Holiday Accommodation Opening
In a change to previous notices, the RORC London Clubhouse will now be open for accommodation bookings over the next May Bank Holiday from Friday 24th to Monday 27th May 2013. For bookings please call 0044 (0)207 493 2248 or email This e-mail address is being protected from spambots. You need JavaScript enabled to view it .
Big Fleet for Cervantes Trophy
104 boats are lining up for the opening race of the RORC domestic offshore racing season, the Cervantes Trophy. Organised by RORC in association with the Société des Régates du Havre and the Royal Yacht Squadron, the Cervantes Trophy race kicks off on Saturday 4th May from the RYS line taking the fleet across the channel to finish in Le Havre.
The weather conditions leading up to the race look uncertain with a complex pressure system over northern Europe which will make it a good test for the international fleet from Belgium, Britain, France, The Netherlands and Russia.
Read more... [Big Fleet for Cervantes Trophy]
Exclusive New Partnership with Virgin Atlantic

We are delighted to announce The Royal Ocean Racing Club's exclusive new partnership with Virgin Atlantic.
This exciting new partnership will give members the opportunity to book flights at Sports Fares (10% less than the lowest fare online) using a dedicated contact telephone number and email. RORC Members will also be able to become a Virgin Flying Club Member at Silver level with the opportunity to fastrack to Gold Membership.
Read more for further details and how to take advantage of this exclusive offer.
Read more... [Exclusive New Partnership with Virgin Atlantic]