Dream Pearls takes the De Guingand Bowl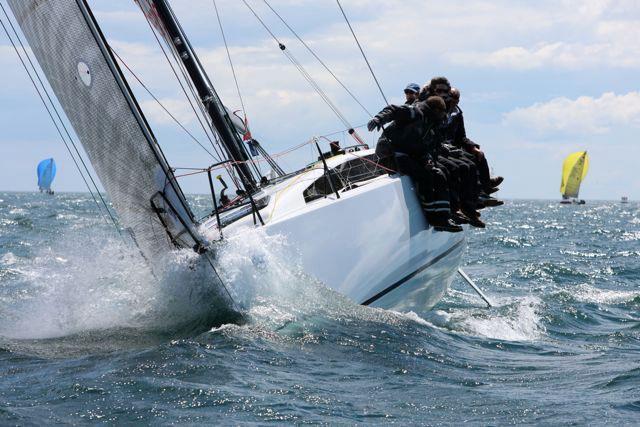 Arnaud Delamare and Eric Mordret's JPK 10.80 Dream Pearls has won the Royal Ocean Racing Club's De Guingand Bowl Race. In second place was Noel Racine's JPK 10.10 Foggy Dew and third overall was the British Two Handed team of Ian Hoddle and Ollie Wyatt, racing Sunfast 3600 Game On.
Line Honours for the De Guingand Bowl Race went to Piet Vroon's Dutch Ker 51 Tonnerre de Breskens, 36 minutes ahead of their nearest rival, Daniel Hardy's Ker 46 Lady Mariposa. After IRC time correction Lady Mariposa was the winner the big boat class, IRC Zero.
"A very competitive race for us and we are delighted to win the first race of our campaign for the Rolex Fastnet Race" commented Dream Pearls' Christian Maby. "We were happy with our speed and we made some very good decisions with sail selection, especially using our Code Zero on the leg back to St. Catherine's Point. If there was one part of the race that we made significant gains it was there. When we finished, we could see boats around us in IRC Two, so we knew we had done well, but to win is fantastic for the team, and this will give us good hope for the season."
IRC Three was the biggest class with 27 yachts competing; Dream Pearls took the class win, as well as the overall with Game On second and Thomas Kneen's JPK 10.80 Sunrise in third.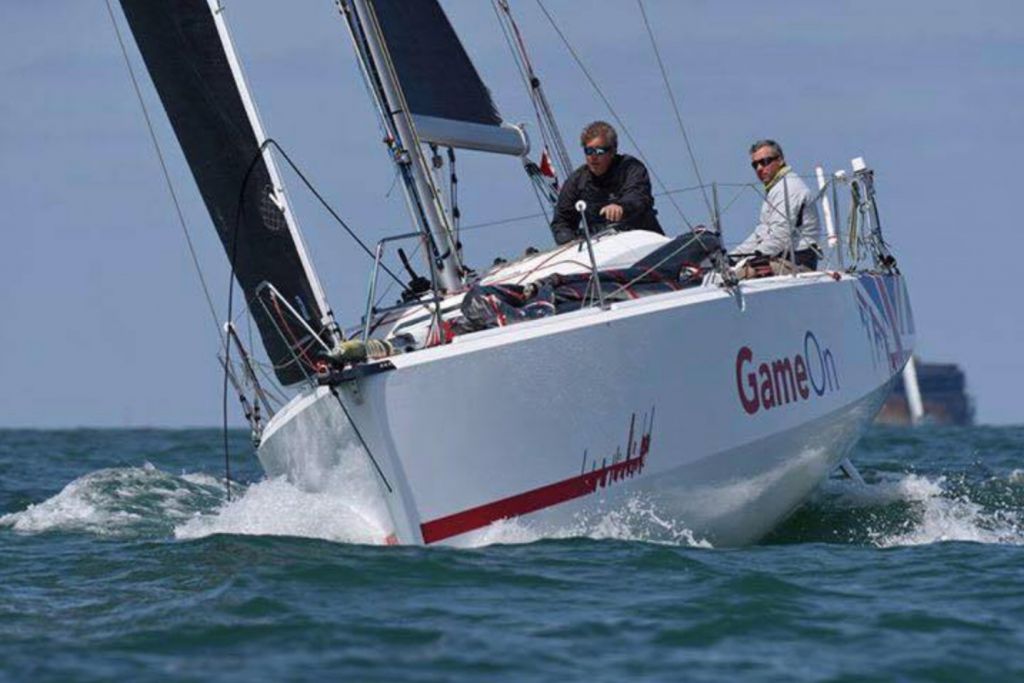 Ian Hoddle, racing his Sun Fast 3600 Game On, with Ollie Wyatt won the IRC Two-Handed Division and were third overall in the RORC De Guingand Bowl
Ian Hoddle's Game On had a terrific race, winning the 20-strong IRC Two Handed Class and placing third overall. However Game On was pushed all the way. In IRC Two Handed Nigel De Quervain Colley's Fastrak XI was only two minutes behind and Ed Fishwick's Redshift Reloaded less than three minutes, after IRC time correction.
"Having been beaten by Bellino and Redshift in the Cervantes Trophy, we were keen to strike back immediately" commented Ian Hoddle. "We nailed a more aggressive start, which paid off as we were in the leading pack on the kite-leg down to the forts. The intensity of competition in the Two Handed fleet is such that a good start can make all the difference. North Head was the low point of our race; a broken jib shackle delayed our kite hoist and the time to fix it and a foul tide punished us. At this point the competition had all positioned themselves for the maximum tide running out of Portland. We continued across to Swanage to see if the anticipated lift provided gains; and it worked to a tee. We made the East Shingles Buoy without a tack and even got the Code Zero aloft! Both Ollie and I had certainly left nothing on the table and by 2am we were exhausted!! Ollie and I last raced together back in 2011. I have never seen someone with so much energy - he literally never stops working around the boat - like a machine :)"
Congratulations to Angus Bates' J/133 Assarain IV, winner of IRC One, Nick & Suzi Jones' First 44.7 Lisa, winner of IRC Two, and Antoine Magre's Palanad II, winner of the Class40 Division. The next race in the 2017 RORC Season's Points Championship will be the Myth of Malham. Mirroring the start of the Rolex Fastnet course, the 256 nautical mile race around the Eddytstone Lighthouse, will be the first weighted race of the championship, with a points factor of 1.2.