Farewell Lanzarote! RORC Transatlantic Underway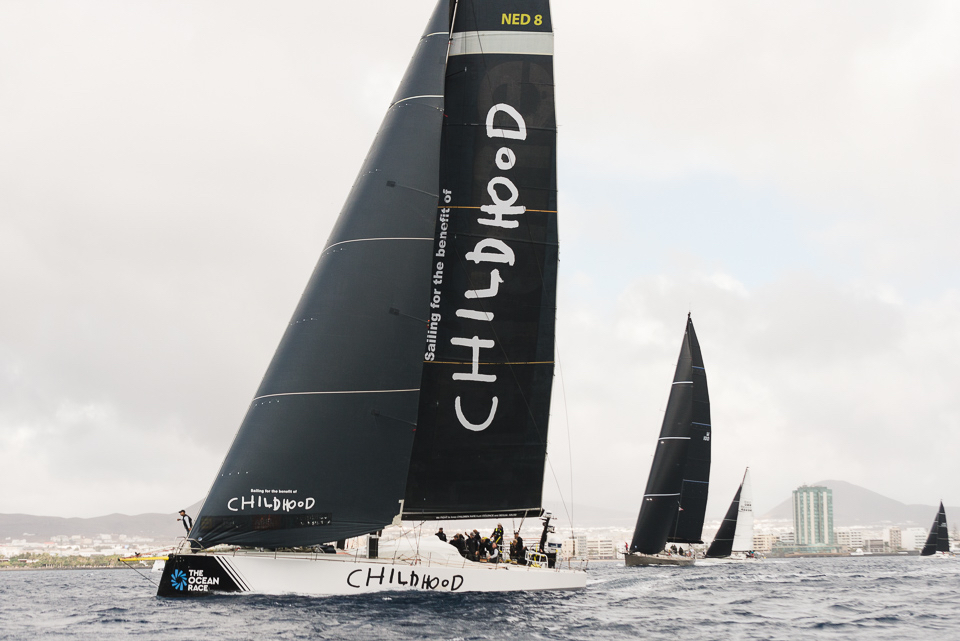 The 6th edition of the RORC Transatlantic Race got underway on time with the fleet starting from outside Marina Lanzarote at 1100 UTC on Saturday 23 November, 2019. After months of preparation, the international fleet have started one of the most iconic offshore races with a stiff breeze gusting up to 25 knots.
After the start, the fleet passed a turning mark at Puerto Calero Marina before leaving Fuerteventura and Tenerife to port and then heading out into the Atlantic Ocean. The first 125nm of the course are both strategic and tactical, with land effects providing both snakes and ladders. The fleet are expected to experience gusty conditions for the first 24 hours, with rain squalls varying both the wind speed and direction.
"15-20 knots from north-northwest was a little more than forecast with squally conditions giving even more breeze," commented RORC Race Officer Steve Cole. "The reaching start was without incident and it was great to see the fleet make good headway at the beginning of this long race. Childhood 1 was just 10 seconds shy of the line at the gun, and Pata Negra and Dark Shadow also got away well."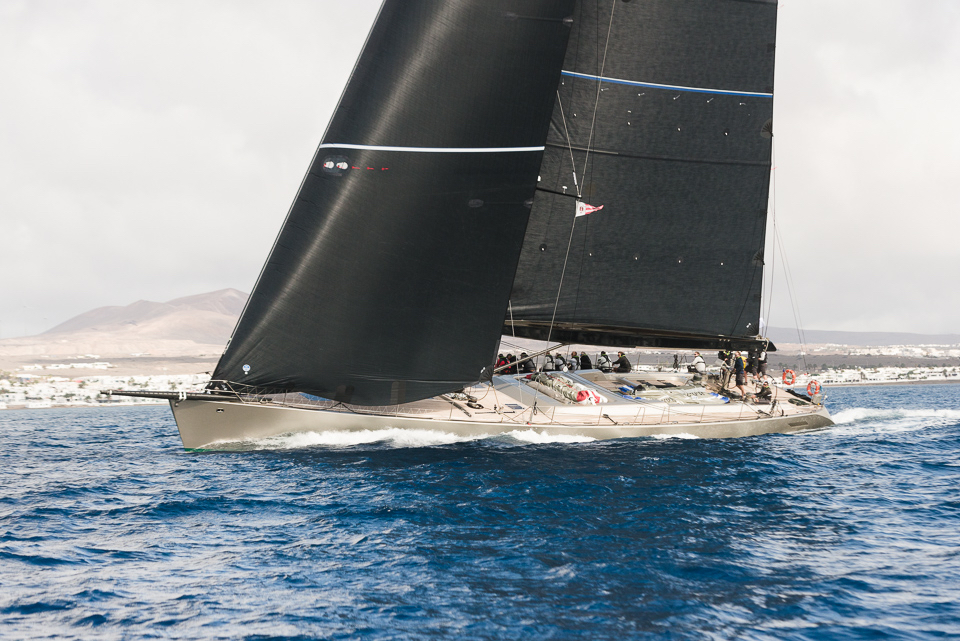 French Wally 100 Dark Shadow - an impressive sight at the start of the RORC Transatlantic Race © Joaquin Vera/Calero Marinas/RORC
The fast reaching start was ideal for Childhood 1, skippered by Bouwe Bekking. The Swedish VO65 was the first yacht to the mark off Puerto Calero Marina and once clear of the wind shadow of the surrounding hills, they hoisted their A3, blasting through La Bocayna, the strait between Lanzarote and Fuerteventura. Childhood 1 is expected to round Tenerife later tonight. French Wally 100 Dark Shadow, skippered by Yerin Hobson, was just three miles astern. Giles Redpath's British Lombard 46 Pata Negra got off to a good start. Skippered by Andy Lis with a young crew, the team were seven miles behind Dark Shadow, the largest yacht in the fleet.
Swiss 47.7 Kali, skippered by Benedikt Clauberg is competing in the RORC Transatlantic Race for the second year in succession. "We have new sails and an experienced crew this year, with six teams members having obtained their Yachtmaster Offshore qualification. Our dual aims are to be safe and fast, and with that in mind we have three modes on board: race, safe and survival - I hope we don't have to go into survival mode but we are prepared for it all the same, including a full man overboard test on the eve of the race," explained Clauberg.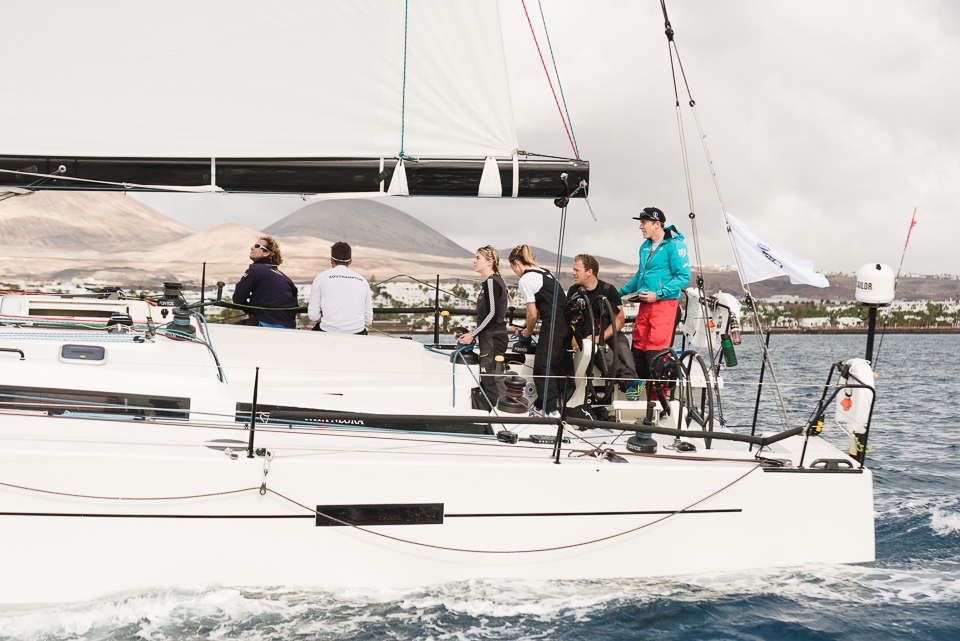 Andy Lis and his young crew on Giles Redpath's Pata Negra © Joaquin Vera/Calero Marinas/RORC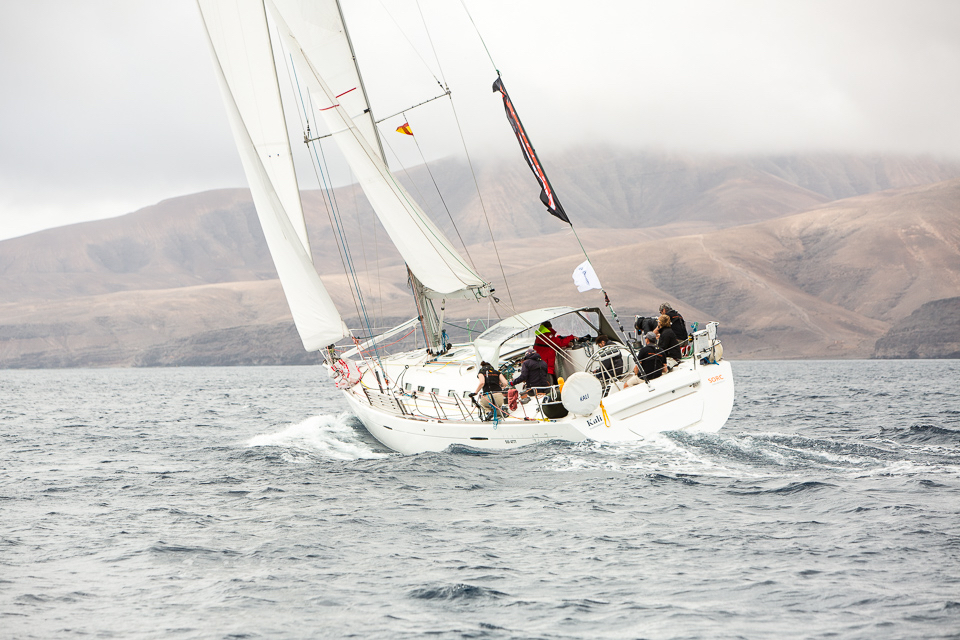 Second RORC Transat for Swiss 47.7 Kali, skippered by Benedikt Clauberg © Joaquin Vera/Calero Marinas/RORC
Richard Palmer's British JPK 10.10 Jangada is also taking part in their second RORC Transatlantic Race. Richard is once again racing two handed, this time with Jeremy Waitt, who contacted the RORC Race Team shortly after the start:
"A nice breeze gave us a tight reach and we just made the turning mark of Puerto Calero without having to tack. A good squall came in on the turning mark so we got pretty wet. It cleared quick, however, as we came around the southerly tip, we got hit hard by another larger squall reaching 25 knots of wind speed. It was a good spanking - a nice and early reminder who is boss out here! We reefed and ended up on main only for 15 minutes. We are now in blue water sailing mode, 80º off the breeze in 18 knots. It looks like a few more squalls are on the way and we have 120 miles to go to Tenerife, or as we say, twice across the English Channel!"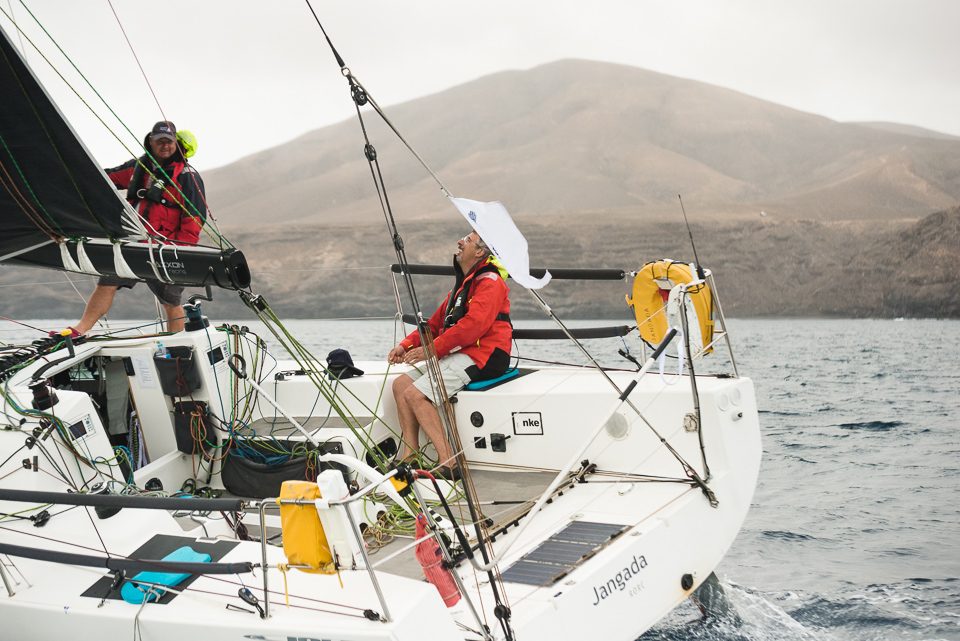 Richard Palmer and Jeremy Waitt racing Two Handed on JPK 10.10 Jangada at the start of the RORC Transatlantic Race © Joaquin Vera/Calero Marinas/RORC
José Juan Calero, CEO of Calero Marinas, accompanied by RORC Commodore Steven Anderson and RORC CEO Eddie Warden Owen watched as the fleet set off. RORC Racing Manager Chris Stone, with RORC Race Officer Steve Cole officiated on the Committee Boat.