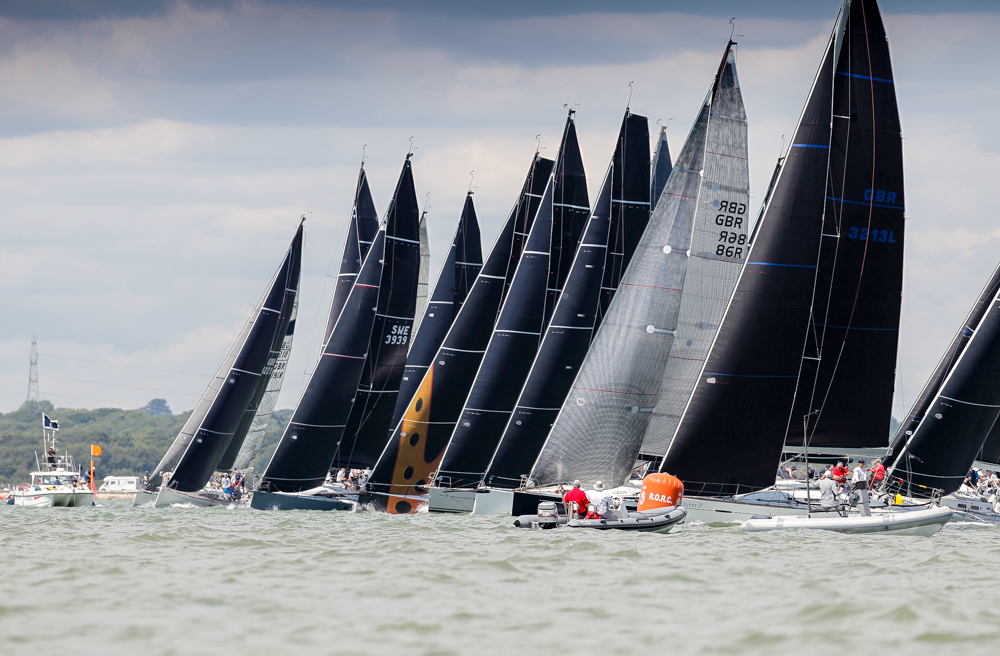 Day two of the Royal Ocean Racing Club's IRC National Championship saw conditions come good with a less severe tidal effect on the Solent due to a later kick-off time and a breeze that peaked at 16 knots. This allowed both race committees (IRC 3-4 run by the RORC racing team's own Steve Cole and Stuart Childerley PRO for the larger classes) to run two windward-leewards rounding off the afternoon with a longer round the cans race. The windward-leewards for the bigger boats was on the Brambles bank with the course for the smaller classes set further west.
While in some classes the leaderboard remains tight going into tomorrow's final day, in others there are some exceptional, stand-out performances. In the six boat FAST40+ class for example Peter Morton's Carkeek 40 Mk3 Girls on Film holds a perfect six bullet score line. Glyn Locke's Farr 280 Toucan has the same tally in the seven strong HP30 class, leaving the likes of Malcolm Wootton's modified Farr 30 Pegasus and Richard Woof's J/90 Jo 90 to scrabble for the last podium positions.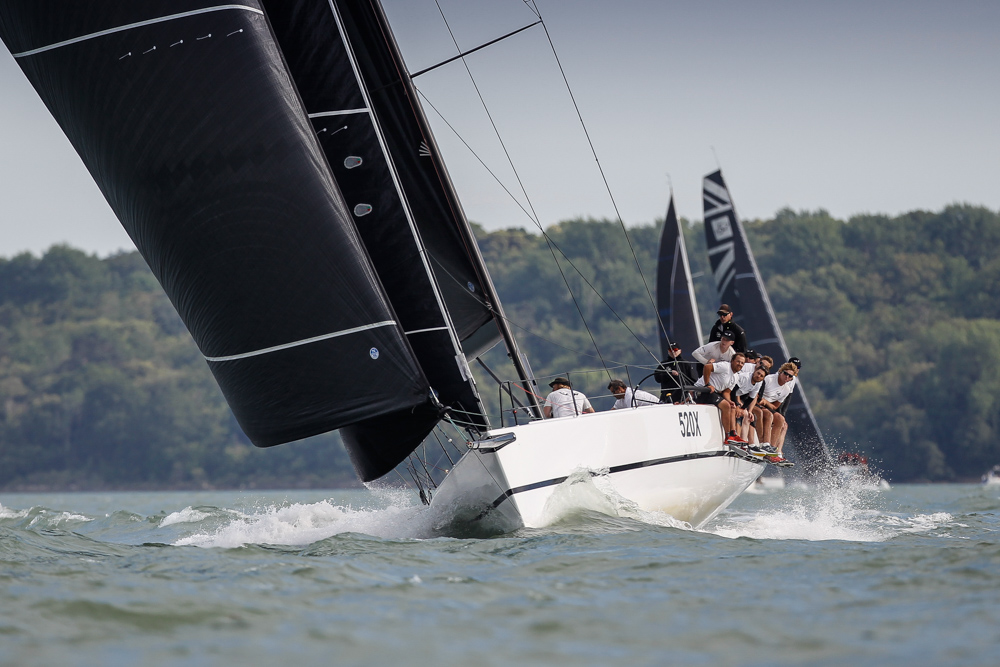 IRC 1: David Collins' IRC 52 Tala had a good second day in the IRC National Championships, posting a 1-2-1 © Paul Wyeth
One of the tightest fights is taking place among the biggest boats in IRC 1 where today the tables were turned with David Collins' IRC 52 Tala getting the better of Tony Langley's Gladiator, posting a 1-2-1 to the polished 52 Super Series team's 2-1-2.
"It was nice sailing - less one-sided than yesterday and a lot of options," explained Tala's tactician, Brett Aarons. "Yesterday, being a higher-rated boat, it was hard to extend enough away from Gladiator and we were still getting used to racing the boat inshore. Today we got over any issues we had.
"We are a little bit faster than Gladiator, with a slightly deeper keel and a slight taller mast. In shorter races you don't extend enough, but the races today and wind strength allowed us to use our extra power and, together with some good sailing, that allowed us to get away.
"David [Collins] is new to the TP, but he did a great job driving today. In the starts he was not afraid of getting the boat into some small gaps…"
The most competitive class here is also the biggest – IRC 2, with 22 boats, including the whole Performance 40 fleet. Overall Stuart Sawyer's Falmouth-based IRC Nationals first timers on their J/122 Black Dog continued to score well. A 1-4-2 today has left them with a 15 point lead ahead of the Blair family's King 40 Cobra. The Goubau family from Belgium had an excellent day on their Beneteau 47.7 Moana, posting a 4-2-4, while also on the ascent was Adam Gosling's fine crew, including double Olympic 470 silver medallist Nick Rogers, on the JPK 11.80 Yes! whose 5-3-1 today has elevated them to fourth overall.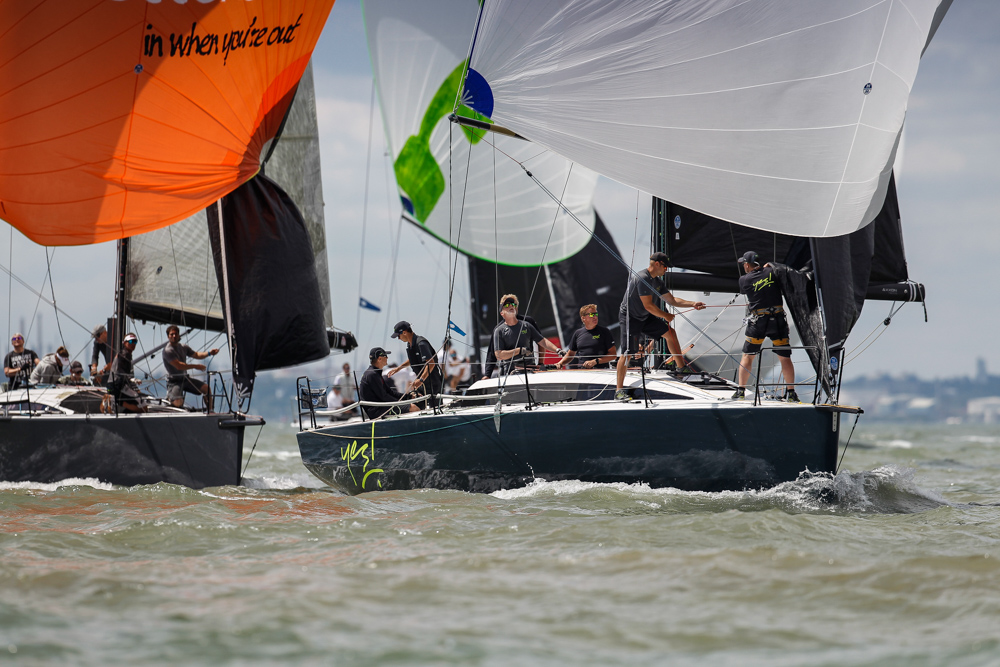 On the ascent in IRC 2 - Adam Gosling's JPK 11.80 Yes! © Paul Wyeth
"It was more our conditions, a slightly more orienteering-type course and the boat is good on that," said Gosling, who over the winter has had Yes! twin rudders replaced. Gosling also paid tribute to Black Dog: "It is great to see such a well-sailed boat. It is good they are winning."
Today's third winner in IRC 2 was the all-star cast, including Andrew Cape and Jerry Hill, on board Robert Bicket's Fargo. Yesterday their Swan 42 shone in race two finishing second and today was the same, sandwiched by otherwise deep results. Bicket described their moment in the sun: "It was a tricky start at the boat end and we managed to just get away and stretch our legs on the beat to get clean air. So it was all the usual classic stuff. It is a difficult fleet with 20+ boats, so you have to get a good start. It is basically about not making mistakes. If you do, you are in the mid-teens."
He added: "There's a great fleet of IRC boats here - well done to the RORC for getting so many to come and race."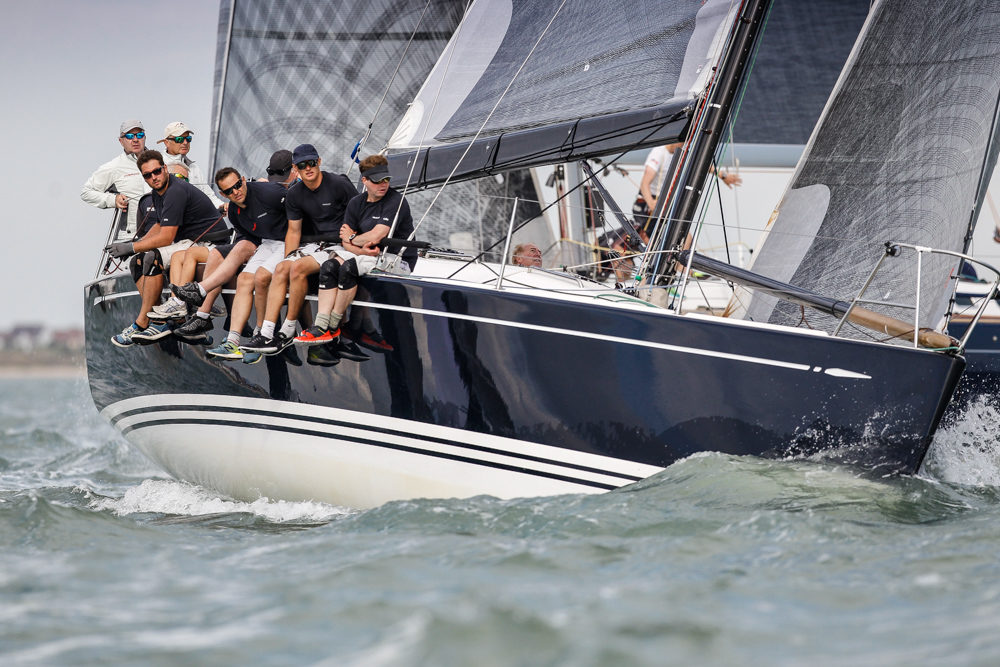 Robert Bicket's Swan 42 Fargo racing with an all-star cast © Paul Wyeth
One point off having a perfect scoreline is the leader in IRC 3, David Franks' J/112E Leon, which today scored straight bullets, despite having one of her crew Medevaced off with a head injury. Leon's six point lead is still vulnerable, but the dominance of the 2012 IRC National Champions is such that sisterships, Xanadoo and Happy Daize, plus the First 40.7 Incognito, are most likely to be left fighting for the remaining podium positions.
On a roll after his exemplary 1-2-1 yesterday is Christopher Preston's J/109 Jubilee. However while they posted a third bullet today, they are facing increasing ferocious competition from defending IRC National Champion, Giovanni Belgrano's and his 1939 vintage Laurent Giles-designed classic Whooper.
Preston admitted that their scoreline was let down today by a 7-5 in the opening windward-leewards. "We had a problem in the first race with a twisted kite, but we had really good starts all the way through. With a J/109 it is a problem when it is wind against tide, because the beats become very short and the JPKs are faster downwind. We got most of it right. We have got a great crew and are having a great time. We had 2-3 knots more wind than yesterday. It made for lovely racing."
Preston was pleased to observe that at this national championship for the RORC and UNCL's jointly owned rating system, the standard of racing is noticeably higher than other events in which he typically competes.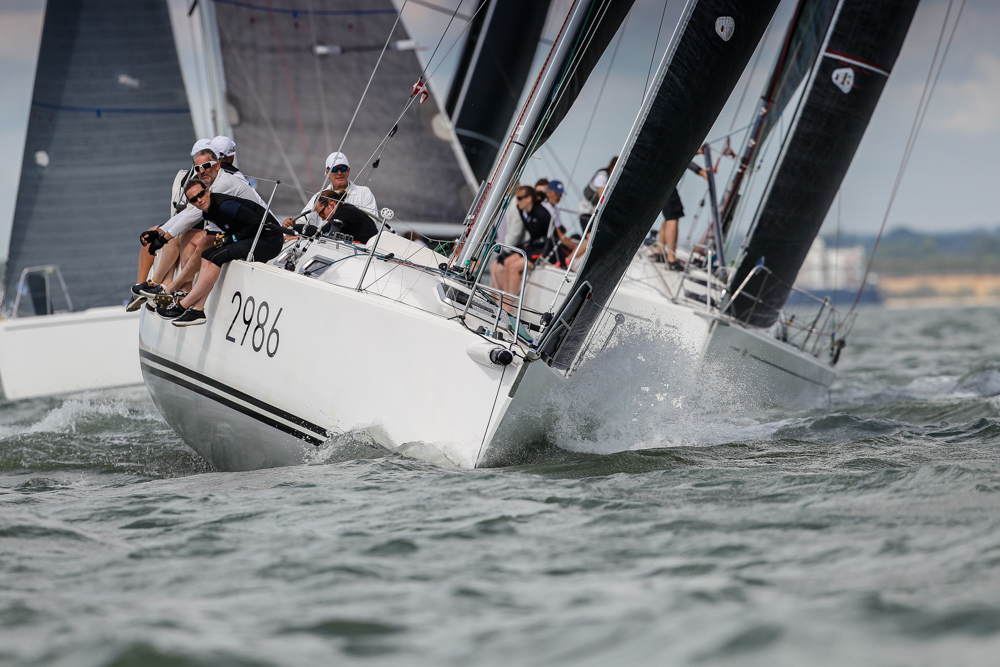 Christopher Preston's J/109 Jubilee © Paul Wyeth
Racing continues tomorrow with a third and final day with an impossibly light forecast when 'no racing can possibly happen'. The common hope is that the race officials will defy the wind gods for a third successive occasion.